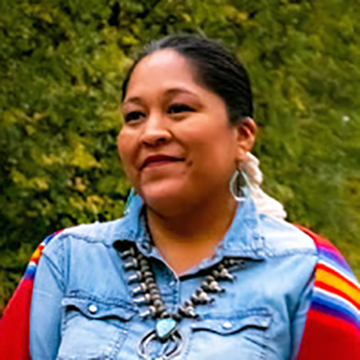 Nicolle L. Gonzales, Board Treasurer
Midwifery Director/Founder, Changing Woman Initiative
she/her
Nicolle L. Gonzales is Dine' Nurse-Midwife, from the Navajo Nation, her clans are Tl'aashchi'I, Red Bottom clan, born for Tachii'nii, Red Running into the Water clan. Hashk'aa hadzohi, Yucca fruit-strung-out-in-a line clan, and Naasht'ezhi dine'e, Zuni clan.  She received her Bachelor's degree in Nursing and a Master's degree in Nurse Midwifery from the University of New Mexico. Inspiration to become a midwife steamed from her experiences as a nurse working with the Native American communities of Northern, NM.
While pursuing her graduate education, it became apparent that Native American traditional healing practices and philosophies about "health" and "wellness" were not supported as part of women's health or birth. These experiences have informed her efforts to support Indigenous birthing traditions, mothering, and culture so that Native American people can birth on their own territories, while being supported by their own Indigenous midwives.
Her work in reclaiming indigenous midwifery and birth has informed reproductive birth justice policy changes and highlighted the current conditions in which Native American birthing families have to navigate. Her efforts to cultivate a collective resistance to current day health inequalities around Native American birthing options and women's health, led her to create Changing Woman Initiative, a Native American Women's-led Health collective with the mission to renew cultural birth knowledge to empower and reclaim indigenous sovereignty of women's medicine and life way teachings.
She is a published author and writes about traditional birthing practices while weaving in Dine' philosophies on personhood and Indigenous feminism, which inform her world views on kinship. She is considered an innovator, inspirational speaker, and has served on two birth center boards in New Mexico. She was named one of 50 Badass Women in InStyle Magazine, and has presented at countless conferences on indigenous women's rights issues, health, birth, wellbeing, and traditional birthing.